Westlife's Wild Dreams Tour 2022 & 2023 will be Westlife's biggest shows to date! Kian, Nicky, Mark and Shane are now on tour across the UK & Ireland, Southeast Asia and the Middle East, with more dates likely to be announced soon…
Find Westlife 2022-23 Tour tickets on Ticketmaster


Westlife Tour 2022 – 2023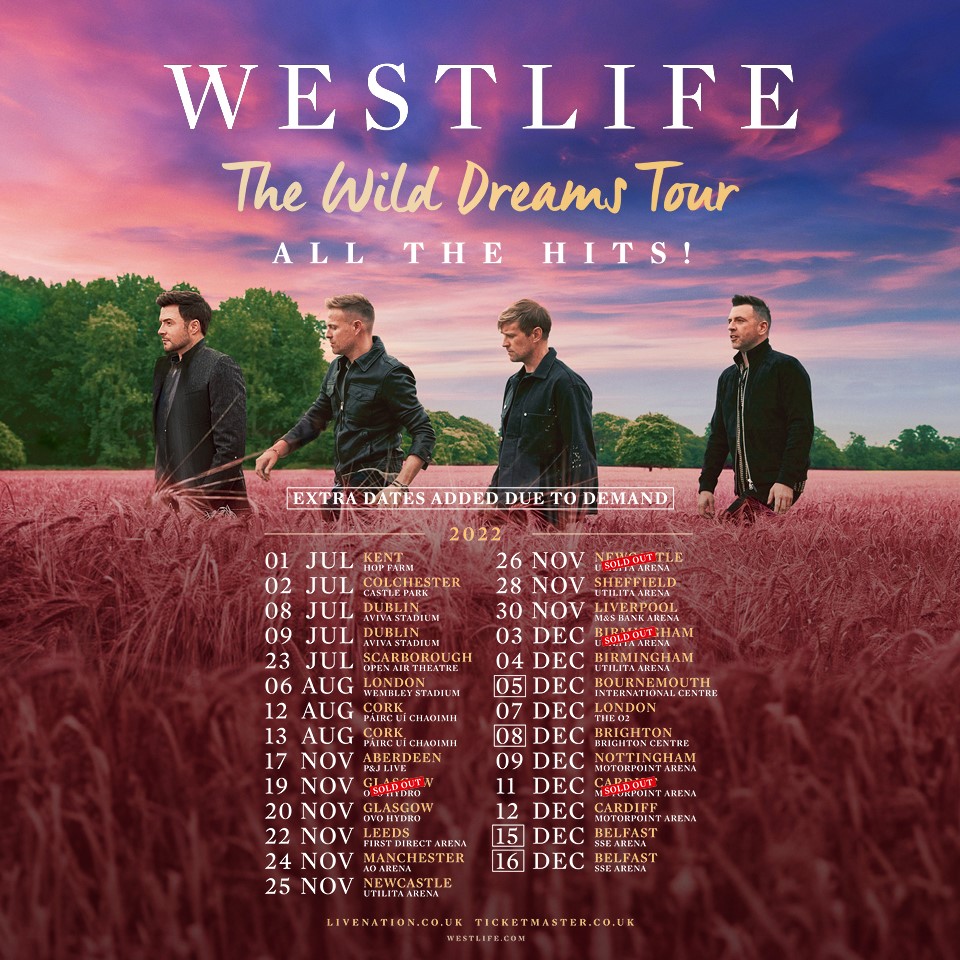 Following on from Westlife's successful comeback tour The Twenty Tour in 2019 (so named as the band celebrated 20 years of hits!), Westlife announced the Wild Dreams tour, covering some of the biggest venues in the UK, Ireland and Southeast Asia.
The Wild Dreams Tour includes some of Westlife's biggest ever gigs: Westlife's show at Wembley Stadium in August 2022 will be their biggest ever concert. Described as a "once in a lifetime event", the performance at Wembley will be followed by two dates at 45,000-seat Cork Stadium (Páirc Uí Chaoimh) in Ireland in the following week.
Tour dates announced so far are shown below, including recently announced shows in Southeast Asia and the Middle East.

Westlife Tour Dates 2022 & 2023
July 2022
Kent, UK, Hop Farm – Friday 1 July
Colchester, UK, Castle Park – Saturday 2 July
Dublin, Ireland, Aviva Stadium – Friday 8 July
Dublin, Ireland, Aviva Stadium – Saturday 9 July
Scarborough, UK, Scarborough Open Air Theatre – Saturday 23 July
August 2022
London, UK, Wembley Stadium – Saturday 6 August – also livestreamed, see westlifeincinemas.com
Cork, Ireland, Páirc Uí Chaoimh – Friday 12 August
Cork, Ireland, Páirc Uí Chaoimh – Saturday 13 August
September 2022
Indonesia, Bogor, Sentul International Convention Center (SICC) – Saturday 24 September
Indonesia, Surabaya, Jatim International Expo – Sunday 25 September
KSA (Saudi Arabia), Riyadh, Venue to be confirmed – Wednesday 28 September
UAE, Abu Dhabi, Venue to be confirmed – Thursday 29 September

October 2022
Singapore, Formula One Singapore Grand Prix (Padang Stage in Zone 4) – Saturday 1 October
Indonesia, Yogyakarta, Candi Prambanan – Sunday 2 October
November 2022
Aberdeen, UK, P&J Live – Thursday 17 November
Glasgow, UK, Ovo Hydro – Saturday 19 November
Glasgow, UK, Ovo Hydro – Sunday 20 November
Leeds, UK, First Direct Arena – Tuesday 22 November
Manchester, UK, AO Arena – Thursday 24 November
Newcastle, UK, Utilita Arena – Friday 25 November
Newcastle, UK, Utilita Arena – Saturday 26 November
Sheffield, UK, Utilita Arena – Monday 28 November
Liverpool, UK, M&S Bank Arena – Wednesday 30 November
December 2022
Birmingham, UK, Utilita Arena – Saturday 3 December
Birmingham, UK, Utilita Arena – Sunday 4 December
Bournemouth, UK, Bournemouth International Centre – Monday 5 December
London, UK, The O2 – Wednesday 7 December
Brighton, UK, The Brighton Centre – Thursday 8 December
Nottingham, UK, Motorpoint Arena – Friday 9 December
Cardiff, UK, Motorpoint Arena – Sunday 11 December
Cardiff, UK, Motorpoint Arena – Monday 12 December
Belfast, UK, SSE Arena – Thursday 15 December
Belfast, UK, SSE Arena – Friday 16 December
Belfast, UK, SSE Arena – Saturday 17 December
Belfast, UK, SSE Arena – Sunday 18 December
January 2023
(No dates announced for January yet)
February 2023
Indonesia – Jakarta, Stadion Madya, Gelora Bung Karno, Saturday 11 February
Philippines – metro Manila, Araneta Coliseum – Monday 20 February
Philippines – metro Manila, Araneta Coliseum – Tuesday 21 February


View all Westlife tour dates in Google Calendar >

Where can I buy Westlife tour tickets?
Wild Dreams UK & Ireland Tour tickets 2022
All UK & Ireland tickets are available to purchase now. Four of the dates were rescheduled from 2020/2021 – Scarborough Open Air Theatre, Wembley Stadium and Páirc Uí Chaoimh dates – all other 2022 Westlife UK & Ireland tour tickets went on general sale in November 2021.
Find Westlife 2022 UK & Ireland Tour tickets on Ticketmaster
Wild Dreams Southeast Asia Tour tickets 2022 & 2023
For tickets to shows in Southeast Asia see WestlifeInJakarta.com (Jakarta shows) & www.westlifeindonesia2022.com (Indonesia) & TicketNet.com.ph (Philippines)
Tickets to shows in the Middle East have been announced in Riyadh, KSA and Abu Dhabi, UAE in September 2022, however tickets are not available yet – venues still to be confirmed.
How much do Westlife tour tickets cost?
Ticket prices vary from venue to venue and tickets for seats nearer the stage are likely to be more expensive.
Birmingham Utilita Area tickets are in four price bands: £52.75, £64.25, £86.75, and £109.25
Cork Páirc Uí Chaoimh ticket prices start at €59.50 up to €109.50.
Dublin Aviva Stadium tickets are in five price bands: €69.50, €79.50, €89.50, €99.50 and €109.50
Glasgow Ovo Hydro tickets are priced from £52.30 up to £109.05
Liverpool M&S Bank Arena tickets are in four price bands: £52, £63.65, £85.85, and £108.45
London Wembley Stadium ticket prices range from £50.65, up to £285 for a front row package.
Newcastle Utilita Arena tickets are in four price bands: £53.50, £64.50, £86.95, and £109.50
Sheffield Utilita Arena tickets are in three price bands: £52.60, £63.85, and £86.35
Indonesia Jakarta tickets range from IDR1,450,000 to IDR3,500,000.
Philippines Manila tickets are priced at PHP 1,575, PHP 3,675, PHP 6,300, PHP 8,400, PHP 10,500, PHP 12,600 and PHP 13,650.


Who are the support acts?
The support acts differ by location – if you're lucky enough to go to more than one show will get to see different special guests!
Dublin: Irish singer/songwriter Soulé and urban pop group Sugababes will support Westlife
Wembley stadium: singer-songwriter James Morrison and girl group All Saints will be special guests opening the show
Cork stadium: Scottish singer/songwriter Emile Sandé and Irish band Wild Youth will be the support acts.

What can we expect from shows on Westlife's 2022 tour?
Expect an impressive show, with a few costume changes, plus pyrotechnics, confetti cannons (at stadium gigs at least), and some Beyonce-inspired dance moves!
Westlife performed two shows at Dublin's Croke Park stadium on The Twenty Tour in 2019 which featured impressive stage effects by the designers of the famous Cirque du Soleil in Las Vegas and the Wild Dreams Tour does not disappoint.
Westlife promise a 'spectacular' show:
"We're over the moon to announce we're going to be playing Páirc Uí Chaoimh in Cork for the first time ever next year!

We can't wait to bring this show to Ireland which will be more spectacular than anything we've ever done before.

Headlining Páirc Uí Chaoimh for the first time ever is a dream come true for all of us."

Source – Irish Mirror

What's the setlist for the Westlife tour in 2022?
The tour promises "All the hits" and will include some of Westlife's greatest hits from through the years. The setlist at Westlife's Hop Farm show on 1 July was as follows – this may not represent the setlist for all dates of the tour but gives an idea of the range of songs the guys will be performing:
Starlight
Uptown Girl
When You're Looking Like That
Fool Again
If I Let You Go
My Love
Swear it Again
ABBA Medley (Mamma Mia, Gimme Gimme Gimme, Super Trouper, Money Money Money, Take a Chance on Me, I Have a Dream, Dancing Queen, Thank You for the Music, Waterloo)
What About Now
What Makes a Man
Safe
Mandy
World of Our Own
Flying Without Wings
Hello My Love
You Raise me Up
Possible additions to the setlist for later dates are Unbreakable, Queen of My Heart, and I'm Already There.

What time will Westlife come on stage?
Timings are likely to vary for different venues, but for the Dublin Aviva Stadium gigs timings were as follows:
6pm Doors open
6.30pm First support act
7.30pm Second support act
8.30pm Westlife on stage
Times may differ for shows at other locations – please check with the venue for timings if you are going to a show!

Westlife in Cinemas, August 2022
Cant make it to a show, or just want to see Westlife on the big screen? Westlife will be broadcasting their show from Wembley Stadium on Saturday 6 August 2022, live to cinemas across the UK and Ireland. This is the first time the guys have livestreamed a gig to cinemas, it'll be an unmissable experience!
As well as being broadcast live on the Saturday, there will be "encore screenings" on Sunday 7 August 2022.
See more details and buy cinema tickets at westlifeincinemas.com

Will there be a recording or a DVD available of the shows?
We reckon that it's pretty likely that the Wembley Stadium show will be made available for download or purchase at a later date, but it hasn't been confirmed yet – as soon as we know we'll post details here.
Westlife – Twenty Tour DVD
A DVD and bluray of Westlife's previous tour was released in March 2020, titled 'Westlife: The Twenty Tour Live from Croke Park'.
The DVD was filmed at Westlife's homecoming gig at Croke Park in Dublin on 6 July 2019. A camera crew followed Westlife backstage, for some behind-the scenes documentary style clips. The DVD release also includes a live CD.
Twenty Tour DVD – £11.99 (Amazon UK)
The Twenty Tour DVD is also available from hive.co.uk


Are there any Westlife tour dates outside the UK & Ireland?
Yes! Westlife have announced a handful of dates in Southeast Asia and in the Middle East:
The guys will be performing in Indonesia in September & October 2022: tickets available at www.westlifeindonesia2022.com.
Two dates have been announced in KSA and the UAE in September 2022 although tickets are not on sale yet.
There will be a one-off performance at the Singapore Formula One Grand Prix on Saturday 1 October 2022: tickets available at singaporegp.sg
The guys will return to Jakarta, Indonesia in February 2023: see info at WestlifeInJakarta.com. Further shows in February are scheduled in Manila, the Philippines: tickets available at TicketNet.com.ph
What about other countries?
No other international shows have been announced yet, however Shane said that the Dublin show on Friday 8 July 2022 was "going to be the start of our world tour" (Source: @Kev_OMahony).
Nicky said in an interview in July 2022 that the tour would comprise 70 dates, which means there are around 30 more dates still to be announced. Kian has also confirmed the guys will be playing at 10 stadiums in China in 2023 (Source: Sunday World) but no dates or locations have been announced yet.
Kian previously reassured fans that the guys intend to tour more widely:
"To all our fans who feel disappointed that their country or city isn't in the first dates please do know this. We intend to reach every city in the world that has a hunger to see Westlife live!"

Source – @KianEganWL
Shane said in 2019 that Westlife hope to tour in Germany:
"Next year we're hoping to come to Germany… Germany's definitely part of our plans for next year. We really want to come back and play the big cities, and come back and see our German fans"

Source – Golden Kamera interview, March 2019
Kian also mentioned in an interview with Warner Music Korea that the guys are hoping to return to Korea soon:
"As far as we're concerned, we would love nothing more than to come back to Korea and perform for you guys, it's very much on our list of countries that we want to get to, so stay tuned and hopefully we can get there next year."

source – warner music korea, november 2021
South America, Australia, New Zealand and South Africa have also been mentioned as possible destinations for a world tour, but Westlife haven't confirmed any more international tour dates yet. As soon as we know any further, we'll add details to this page!

We'll add more tour news to this page as and when we receive it, so check back for updates, subscribe to our mailing list or follow us on Twitter.

Read about Westlife's 2019 Twenty Tour >