The latest Westlife album, Wild Dreams, released 26 November 2021. The album is Westlife's twelfth studio album, following their album Spectrum in 2019.
Order Wild Dreams on Amazon UK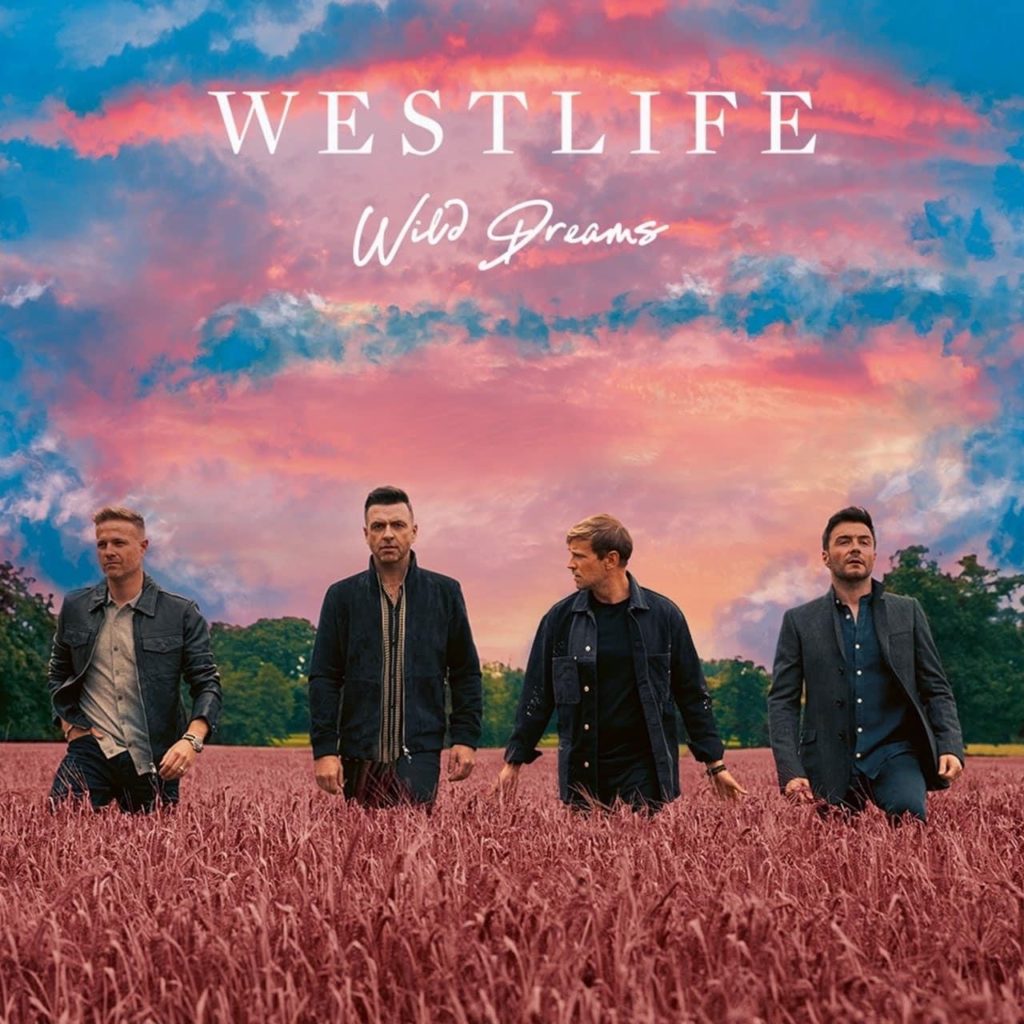 What's the tracklist of the album?
In total there are 11 brand new tracks on the Wild Dreams album:
Starlight – co-written by Mark and Shane, the first single to be released from the album
Alone Together – also co-written by Mark and Shane
Wild Dreams – Mark has described this as his favourite track
Lifeline
Alive – co-written by Nicky, "about the world coming alive again"
Rewind
Do You Ever Think of Me
My Hero – co-written by Ed Sheeran and Steve Mac, the second single
End of Time
Magic
Always With Me – co-written by Shane, an emotional track about the loss of Shane's parents
The digital and deluxe versions of the album include an additional four tracks, which are new live recordings of four of Westlife's hit singles, recorded at Ulster Hall in Belfast.
Digital and deluxe edition bonus tracks:
World of Our Own (live at Ulster Hall)
Uptown Girl (live at Ulster Hall)
Flying Without Wings (live at Ulster Hall)
You Raise Me Up (live at Ulster Hall)
There are three different versions of the deluxe edition of the album, with different coloured cover artwork.
Where can I buy or listen to Westlife Wild Dreams?
The Westlife album Wild Dreams is available to order online at the following sites:
Buy the CD:
Streaming links:
Have Westlife written any of the songs on the new album?
Yes! The guys have written a total of eight of the tracks, the most on any Westlife album release to date.
Nicky talked about this in a radio interview in October 2021:
"I think the whole album encapsulates the two years of lockdown, for us anyway… It's the most writing we've ever done on any album.

It kept us busy and it gave us a bit of a focus to get through lockdown, which I think for anybody, no matter what your business is, is important,"

nicky – mailonline, october 2021
Both Shane and Mark co-wrote the track Starlight, the first single released from the album. Mark talked about how they wanted something feel-good following the covid pandemic:
"We wrote a huge percentage of Wild Dreams and that felt like a very natural progression for us. It was very important for us to make upbeat positive and exciting music which is what we felt we needed and what our fans might want too! And after the last 18 months, we wanted to create something feel-good which is what we've done with the first single 'Starlight'."

mark – Attitude magazine, october 2021
Are there any standout tracks we should listen out for?
Nicky and Mark co-wrote a song on the album with Irish band Picture This, called Alive, which is about the world coming alive again. Nicky has said he's particularly proud of the song:
"I did a couple of songs with Picture This; there's a song on the album called Alive, which I honestly think is one of the best songs I've ever been involved in co-writing, so I'm very proud of that one"

nicky – rsvplive, october 2021
Mark has said his favourite track on the album is the title track, Wild Dreams:
"'Wild Dreams' is one of the first songs we wrote with the amazing Rami Yacoub. The sound and production of that song really paved the way for the rest of the album."

mark – Attitude magazine, october 2021
Shane also collaborated with Steve Garrigan from Kodaline on the song Always With Me, an emotional track about the loss of Shane's parents, who passed away just 10 months apart.
Shane has described how the track is based on how his dad must have felt after Shane's mother passed away:
"It's a beautiful story and I'm so proud of [the song]. It took me four months to finish it because we kept going over it trying to make it better."

Shane – sunday world, october 2021
The song Alone Together was written by Shane and Mark together with songwriters Michael Pollack, Rami Yacoub and ILYA.
Who are the guest songwriters on the Wild Dreams album?
Westlife collaborated with some very special guest songwriters on the album – Mark said that they worked with "with some legendary writers" during the summer of 2021. The guys worked with Irish band Kodaline, as well as singer-songwriter Ed Sheeran, who co-wrote My Hero, and Amy Wadge, who co-wrote the tracks Lifeline and Rewind.
Steve Mac, who co-wrote and produced some of Westlife's most popular songs to date (including Flying Without Wings and Hello My Love), co-wrote the track My Hero, and produced a number of songs on the new album.
Producers on the album also include Jamie Scott, who has previously worked with One Direction, and Swedish record producer and songwriter Rami Yacoub, who is known for working with Ariana Grande and Lady Gaga. Rami also co-wrote the title track, Wild Dreams.
What singles does the album include?
Three songs have been released for download/streaming so far:
Starlight, released on Thursday 14 October 2021
My Hero, released Thursday 4 November 2021, immediately after the song was broadcast on the Pride of Britain Awards TV Show
Alone Together, released Friday 4 February 2022
What else can we expect from Wild Dreams?
Westlife recorded the album during the covid pandemic, and they have said that the album "captures the mood of the moment":
"This album means more to us than anything we have done before and has been inspired by the challenges we've all overcome over the last 18 months.

The maze of emotions we all experienced during the pandemic drew us to songwriting and has helped us create a really special album that we have everything we love in music – it's got fresh feel-good uptempo tracks like 'Starlight' as well as powerful, heartfelt ballads such as 'Always With Me'.

The album also offers moments of reflection and is about new beginnings, hope and looking to the future. The music is so relevant to now. It is uplifting stuff and [we] cannot wait for the fans to hear it."
When was the Westlife album Wild Dreams recorded?
The album was recorded during summer 2021. Westlife finished recording the album in August 2021.
Kian revealed in an interview on Cool FM how work on the album started during the covid pandemic:
"It started off everything was on Zoom, all of our discussions, all of our meetings were on Zoom. At the very start of the pandemic we knew that the rug was being pulled from under us, all the tours, all of that, everything that had been planned was down the swanny and in the bin, so it was like, ok, what do we do? As a band what's the best thing do?

As time went on we all agreed that coming back with new music was probably the best thing to do, and to go off and try and make a record. So everybody kind of started doing a bit of songwriting, started contacting songwriters from around the word, and songs started slowly coming in."

Kian – cool fm interview, october 2021
Westlife recorded the live tracks (available on the deluxe and digital versions of the album) at Ulster Hall in Belfast. This special gig with a small audience of (very lucky!) fans was recorded for BBC Radio 2 Live in August 2021. The full Radio 2 Live show is available to view in the UK on BBC iPlayer.
Order Wild Dreams (Deluxe edition) on Amazon UK


Did Westlife record the new album from their sofas?
Sort of! The guys started recording the album while there were covid restrictions in place and they couldn't meet up in person. Kian and Nicky described how they managed to record the album, working from their homes on Zoom video conferencing software, instead of going into the studio:
"Steve Mac came up with the idea of sending us a kit, with a big microphone and a computer and all of that, to set up in our homes."

Kian – cool fm interview, october 2021
"We didn't have some runner to come in and [help set up] saying 'sorry Nicky that's the right height for you'…we had to start putting screws together, and building… building like a studio!

We had a vox box that went over your head, a mic stand, a mic and then this box that went around your head. It was just strange…

And then we had to have two laptops, because one was on Zoom with an engineer in his studio, the producer who could have been in LA or London or Dublin or wherever. One computer was linked to the audio, and one computer linked to your Zoom, so he could give you directions.

It was amazing what technology could do."

nicky – cool fm interview, october 2021
Westlife in a 'Zoom world' of their own
Recording the album at home during the pandemic meant that things didn't always go to plan…
"You're telling the kids and the dog and whatever else is going on in the background, the delivery man at the door, to get away, shut up, we're in the middle of [recording the album], y'know!"

kian – cool FM interview, october 2021
"I guess the challenges were WiFi, people ringing the doorbell, the dog barking, the kids coming down to ask for help with their homework while you're in the middle of a verse or something. But that's real life and that was fun. That was the same for radio presenters, or TV presenters, or people in high powered jobs on Zoom meetings. It was just a different world, everybody was working from home, including pop bands, which is incredible."

nicky – mailonline interview, october 2021
Album dedication
The album is dedicated in memory of Shane's parents, Mae and Peter Filan, who passed away before the album was recorded. The cover booklet insert features a photo of Mae and Peter, and a heartfelt dedication from Shane.
Order Wild Dreams on Amazon UK

Want to know more about what Westlife are up to? Subscribe to our mailing list or follow us on Twitter.
Read more about Westlife's music