The new Westlife single is rumoured to be released later this year (date yet to be confirmed!).
This comes hot on the heels of the guys' reunion announcement in October 2018, following a 6-year break for the band. It will be Westlife's first UK single release since Lighthouse in November 2011.
The single will be released on Virgin EMI Records, after Westlife signed a new record deal.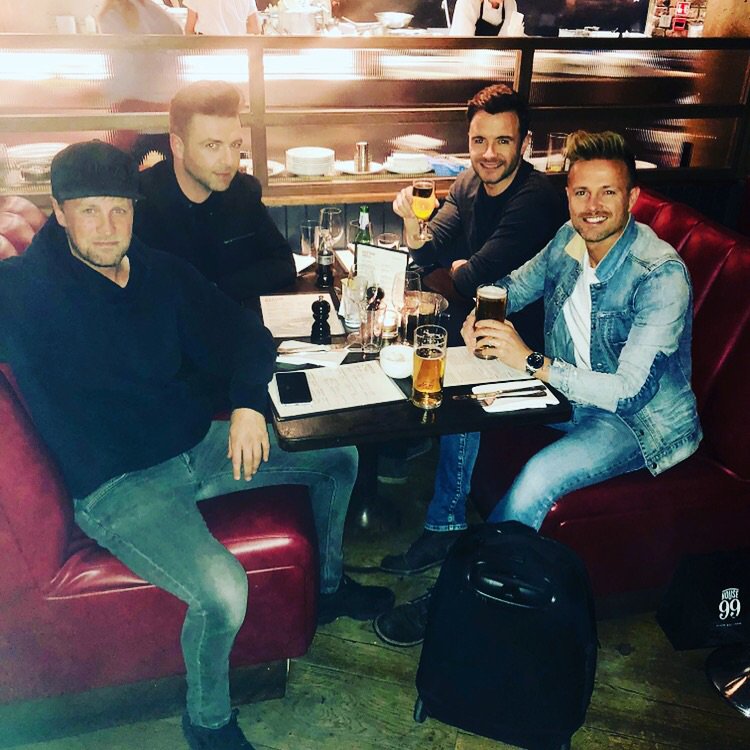 Westlife celebrate signing a new record deal, October 2018
(Source: @NickyByrne)
Is the single a cover?
Westlife's new single will be a brand new track, written by singer-songwriter Ed Sheeran. According to a source close to the band:
"Having Ed involved is a huge coup. They think he will give them a contemporary edge for their reunion."
(Source – The Sun)
Ed Sheeran has an impressive record of hits — he was Spotify's most streamed artist of 2017 with 6.3 billion streams — so we're certain the new Westlife single will prove popular!
What's the title of the new Westlife single?
Your guess is as good as ours…the title of the single's yet to be revealed. We do know that it will be an 'uptempo' song.
Mark says:
"We're not trying to change Westlife's sound, we're trying to evolve"
Shane added:
"We need to be a Westlife 2.0, a better version of ourselves. We wanted to come back and recreate Westlife's sound, but better, and be a better band, and the most important thing about any band is music."
(Source – evoke.ie)
When will the new single be released?
The track has been already been recorded but the release date hasn't been announced. The single was rumoured to be set for release in November 2018, but it now looks more likely that the single will be released before Christmas 2018.
A source (we're pretty sure it's Westlife's manager Louis Walsh) reveals:
"[Westlife] have already recorded the song and are delighted with the results. They're just pulling together the final promo details including a video before they unveil it. It's going to be huge."
(Source – The Sun)
Fans in Ireland are likely to get the first listen, as Westlife have signed up to debut the track on the popular TV show The Late Late Show. We reckon Nicky will also play the single on his radio show on Ireland's RTÉ 2FM. Westlife will also be appearing on the Graham Norton Show in the UK in January 2019.
Will there be a new album?
Yes! Westlife's new album will be released in 2019. Read more about the new Westlife album.
Want to know more about Westlife's new single? We'll keep this page updated as and when details are released, so check back for updates or follow us on Twitter.
Read more about Westlife's music